Image via www.interiorclip.com
It's that time of the year again. High school students across the country have closed their books and are moving onto college.
With summer in full swing and move-in date for freshman year fast approaching, you need to start thinking about what to bring to college and what to leave at home. This list of dorm room essentials will help you get started in making your dorm room more comfortable so you can focus on more important things... soaking up the summer sun!
Making the Most of Your Space
For most freshman students, moving into the dorms is a big adjustment. This is the first time you will be living on your own and many comforts from home are gone. One of the biggest obstacles in dorm life is learning to live in a small space with a lot of people! Therefore, it is important to maximize the most of the space you have!
Storage
Moving your whole life into a small room is tough, so creating storage space is a must! If your room doesn't come with a closet and dresser, these tips will help you pack your belongings with ease.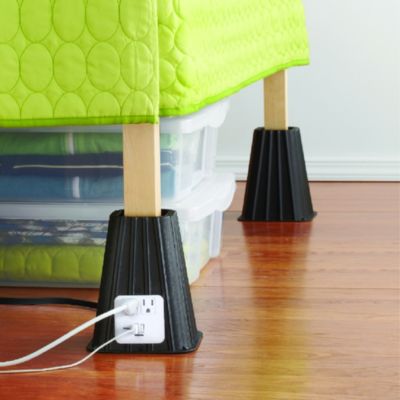 An easy way to create space in a dorm room is to lift your bed. By lifting your bed, you open up all the space under the bed for storage. This makes room for clothing bins, sliding drawers, or even a shoe rack. We love this four-piece lifting set from
Bed Bath & Beyond
which provides two power outlets and USB outlets. Look for products like this when shopping as they add new function to an already existent part of the room!
Other space saving tricks like this include door hangers or organizers to use as a coat rack, hang towels, or organize shoes.
Keeping it Comfortable
While the dorm lifestyle may not be the most lavish way to live, making your space comfortable can make a small room much more enjoyable.
Bedding
The most important part of your room is the bed and you want this to be comfortable. It all starts with gathering the
right
bedding essentials. Keys to a good nights rest before your next big exam come down to a nice
mattress pad
,
soft sheets
, and
cozy comforter
. After you've gathered these essentials finish off the bed with soft pillows and a comfortable blanket.
Twin XL's luxurious basket weave blankets make the perfect edition to any college student's bed.
Living in Style
Add some personality to your room by choosing a patterned comforter or rug. This is the first step to making your room feel like a home. Find these products an others at
TwinXL.com